Deprecated: preg_replace(): The /e modifier is deprecated, use preg_replace_callback instead in /www/htdocs/w006eb13/html/demos/html/includes/pnAPI.php on line 589

Deprecated: preg_replace(): The /e modifier is deprecated, use preg_replace_callback instead in /www/htdocs/w006eb13/html/demos/html/includes/pnAPI.php on line 589

Deprecated: Function ereg_replace() is deprecated in /www/htdocs/w006eb13/html/demos/html/modules/Xanthia/pnclasses/Xanthia.php on line 562


Sanktionsmoratorium



Deprecated: Function ereg_replace() is deprecated in /www/htdocs/w006eb13/html/demos/html/modules/Xanthia/pnclasses/Xanthia.php on line 562


Demo 28. März Berlin





Deprecated: Function ereg_replace() is deprecated in /www/htdocs/w006eb13/html/demos/html/modules/Xanthia/pnclasses/Xanthia.php on line 562


Hartz IV Diskussion



Deprecated: preg_replace(): The /e modifier is deprecated, use preg_replace_callback instead in /www/htdocs/w006eb13/html/demos/html/includes/pnAPI.php on line 589

Deprecated: preg_replace(): The /e modifier is deprecated, use preg_replace_callback instead in /www/htdocs/w006eb13/html/demos/html/includes/pnAPI.php on line 589

Deprecated: Function ereg_replace() is deprecated in /www/htdocs/w006eb13/html/demos/html/modules/Xanthia/pnclasses/Xanthia.php on line 562


Webseiten



Deprecated: preg_replace(): The /e modifier is deprecated, use preg_replace_callback instead in /www/htdocs/w006eb13/html/demos/html/includes/pnAPI.php on line 589

Deprecated: preg_replace(): The /e modifier is deprecated, use preg_replace_callback instead in /www/htdocs/w006eb13/html/demos/html/includes/pnAPI.php on line 694

Deprecated: preg_replace(): The /e modifier is deprecated, use preg_replace_callback instead in /www/htdocs/w006eb13/html/demos/html/includes/pnAPI.php on line 694

Deprecated: preg_replace(): The /e modifier is deprecated, use preg_replace_callback instead in /www/htdocs/w006eb13/html/demos/html/includes/pnAPI.php on line 589

Deprecated: preg_replace(): The /e modifier is deprecated, use preg_replace_callback instead in /www/htdocs/w006eb13/html/demos/html/includes/pnAPI.php on line 694

Deprecated: preg_replace(): The /e modifier is deprecated, use preg_replace_callback instead in /www/htdocs/w006eb13/html/demos/html/includes/pnAPI.php on line 694

Deprecated: preg_replace(): The /e modifier is deprecated, use preg_replace_callback instead in /www/htdocs/w006eb13/html/demos/html/includes/pnAPI.php on line 589

Deprecated: preg_replace(): The /e modifier is deprecated, use preg_replace_callback instead in /www/htdocs/w006eb13/html/demos/html/includes/pnAPI.php on line 694

Deprecated: preg_replace(): The /e modifier is deprecated, use preg_replace_callback instead in /www/htdocs/w006eb13/html/demos/html/includes/pnAPI.php on line 694

Deprecated: preg_replace(): The /e modifier is deprecated, use preg_replace_callback instead in /www/htdocs/w006eb13/html/demos/html/includes/pnAPI.php on line 589

Deprecated: preg_replace(): The /e modifier is deprecated, use preg_replace_callback instead in /www/htdocs/w006eb13/html/demos/html/includes/pnAPI.php on line 694

Deprecated: preg_replace(): The /e modifier is deprecated, use preg_replace_callback instead in /www/htdocs/w006eb13/html/demos/html/includes/pnAPI.php on line 694

Deprecated: preg_replace(): The /e modifier is deprecated, use preg_replace_callback instead in /www/htdocs/w006eb13/html/demos/html/includes/pnAPI.php on line 589

Deprecated: preg_replace(): The /e modifier is deprecated, use preg_replace_callback instead in /www/htdocs/w006eb13/html/demos/html/includes/pnAPI.php on line 694

Deprecated: preg_replace(): The /e modifier is deprecated, use preg_replace_callback instead in /www/htdocs/w006eb13/html/demos/html/includes/pnAPI.php on line 694

Deprecated: preg_replace(): The /e modifier is deprecated, use preg_replace_callback instead in /www/htdocs/w006eb13/html/demos/html/includes/pnAPI.php on line 589

Deprecated: preg_replace(): The /e modifier is deprecated, use preg_replace_callback instead in /www/htdocs/w006eb13/html/demos/html/includes/pnAPI.php on line 694

Deprecated: preg_replace(): The /e modifier is deprecated, use preg_replace_callback instead in /www/htdocs/w006eb13/html/demos/html/includes/pnAPI.php on line 694

Deprecated: preg_replace(): The /e modifier is deprecated, use preg_replace_callback instead in /www/htdocs/w006eb13/html/demos/html/includes/pnAPI.php on line 589

Deprecated: preg_replace(): The /e modifier is deprecated, use preg_replace_callback instead in /www/htdocs/w006eb13/html/demos/html/includes/pnAPI.php on line 694

Deprecated: preg_replace(): The /e modifier is deprecated, use preg_replace_callback instead in /www/htdocs/w006eb13/html/demos/html/includes/pnAPI.php on line 694

Deprecated: preg_replace(): The /e modifier is deprecated, use preg_replace_callback instead in /www/htdocs/w006eb13/html/demos/html/includes/pnAPI.php on line 589

Deprecated: preg_replace(): The /e modifier is deprecated, use preg_replace_callback instead in /www/htdocs/w006eb13/html/demos/html/includes/pnAPI.php on line 694

Deprecated: preg_replace(): The /e modifier is deprecated, use preg_replace_callback instead in /www/htdocs/w006eb13/html/demos/html/includes/pnAPI.php on line 694

Deprecated: preg_replace(): The /e modifier is deprecated, use preg_replace_callback instead in /www/htdocs/w006eb13/html/demos/html/includes/pnAPI.php on line 589

Deprecated: preg_replace(): The /e modifier is deprecated, use preg_replace_callback instead in /www/htdocs/w006eb13/html/demos/html/includes/pnAPI.php on line 694

Deprecated: preg_replace(): The /e modifier is deprecated, use preg_replace_callback instead in /www/htdocs/w006eb13/html/demos/html/includes/pnAPI.php on line 694

Deprecated: preg_replace(): The /e modifier is deprecated, use preg_replace_callback instead in /www/htdocs/w006eb13/html/demos/html/includes/pnAPI.php on line 589

Deprecated: preg_replace(): The /e modifier is deprecated, use preg_replace_callback instead in /www/htdocs/w006eb13/html/demos/html/includes/pnAPI.php on line 694

Deprecated: preg_replace(): The /e modifier is deprecated, use preg_replace_callback instead in /www/htdocs/w006eb13/html/demos/html/includes/pnAPI.php on line 694

Deprecated: preg_replace(): The /e modifier is deprecated, use preg_replace_callback instead in /www/htdocs/w006eb13/html/demos/html/includes/pnAPI.php on line 589

Deprecated: preg_replace(): The /e modifier is deprecated, use preg_replace_callback instead in /www/htdocs/w006eb13/html/demos/html/includes/pnAPI.php on line 694

Deprecated: preg_replace(): The /e modifier is deprecated, use preg_replace_callback instead in /www/htdocs/w006eb13/html/demos/html/includes/pnAPI.php on line 694

Deprecated: preg_replace(): The /e modifier is deprecated, use preg_replace_callback instead in /www/htdocs/w006eb13/html/demos/html/includes/pnAPI.php on line 589

Deprecated: preg_replace(): The /e modifier is deprecated, use preg_replace_callback instead in /www/htdocs/w006eb13/html/demos/html/includes/pnAPI.php on line 694

Deprecated: preg_replace(): The /e modifier is deprecated, use preg_replace_callback instead in /www/htdocs/w006eb13/html/demos/html/includes/pnAPI.php on line 694

Deprecated: preg_replace(): The /e modifier is deprecated, use preg_replace_callback instead in /www/htdocs/w006eb13/html/demos/html/includes/pnAPI.php on line 589

Deprecated: preg_replace(): The /e modifier is deprecated, use preg_replace_callback instead in /www/htdocs/w006eb13/html/demos/html/includes/pnAPI.php on line 694

Deprecated: preg_replace(): The /e modifier is deprecated, use preg_replace_callback instead in /www/htdocs/w006eb13/html/demos/html/includes/pnAPI.php on line 694

Deprecated: preg_replace(): The /e modifier is deprecated, use preg_replace_callback instead in /www/htdocs/w006eb13/html/demos/html/includes/pnAPI.php on line 589

Deprecated: preg_replace(): The /e modifier is deprecated, use preg_replace_callback instead in /www/htdocs/w006eb13/html/demos/html/includes/pnAPI.php on line 694

Deprecated: preg_replace(): The /e modifier is deprecated, use preg_replace_callback instead in /www/htdocs/w006eb13/html/demos/html/includes/pnAPI.php on line 694

Deprecated: preg_replace(): The /e modifier is deprecated, use preg_replace_callback instead in /www/htdocs/w006eb13/html/demos/html/includes/pnAPI.php on line 589

Deprecated: preg_replace(): The /e modifier is deprecated, use preg_replace_callback instead in /www/htdocs/w006eb13/html/demos/html/includes/pnAPI.php on line 694

Deprecated: preg_replace(): The /e modifier is deprecated, use preg_replace_callback instead in /www/htdocs/w006eb13/html/demos/html/includes/pnAPI.php on line 694

Deprecated: preg_replace(): The /e modifier is deprecated, use preg_replace_callback instead in /www/htdocs/w006eb13/html/demos/html/includes/pnAPI.php on line 589

Deprecated: preg_replace(): The /e modifier is deprecated, use preg_replace_callback instead in /www/htdocs/w006eb13/html/demos/html/includes/pnAPI.php on line 694

Deprecated: preg_replace(): The /e modifier is deprecated, use preg_replace_callback instead in /www/htdocs/w006eb13/html/demos/html/includes/pnAPI.php on line 694

Deprecated: preg_replace(): The /e modifier is deprecated, use preg_replace_callback instead in /www/htdocs/w006eb13/html/demos/html/includes/pnAPI.php on line 589

Deprecated: preg_replace(): The /e modifier is deprecated, use preg_replace_callback instead in /www/htdocs/w006eb13/html/demos/html/includes/pnAPI.php on line 694

Deprecated: preg_replace(): The /e modifier is deprecated, use preg_replace_callback instead in /www/htdocs/w006eb13/html/demos/html/includes/pnAPI.php on line 694

Deprecated: preg_replace(): The /e modifier is deprecated, use preg_replace_callback instead in /www/htdocs/w006eb13/html/demos/html/includes/pnAPI.php on line 589

Deprecated: preg_replace(): The /e modifier is deprecated, use preg_replace_callback instead in /www/htdocs/w006eb13/html/demos/html/includes/pnAPI.php on line 694

Deprecated: preg_replace(): The /e modifier is deprecated, use preg_replace_callback instead in /www/htdocs/w006eb13/html/demos/html/includes/pnAPI.php on line 694

Deprecated: preg_replace(): The /e modifier is deprecated, use preg_replace_callback instead in /www/htdocs/w006eb13/html/demos/html/includes/pnAPI.php on line 589

Deprecated: preg_replace(): The /e modifier is deprecated, use preg_replace_callback instead in /www/htdocs/w006eb13/html/demos/html/includes/pnAPI.php on line 694

Deprecated: preg_replace(): The /e modifier is deprecated, use preg_replace_callback instead in /www/htdocs/w006eb13/html/demos/html/includes/pnAPI.php on line 694

Deprecated: preg_replace(): The /e modifier is deprecated, use preg_replace_callback instead in /www/htdocs/w006eb13/html/demos/html/includes/pnAPI.php on line 589

Deprecated: preg_replace(): The /e modifier is deprecated, use preg_replace_callback instead in /www/htdocs/w006eb13/html/demos/html/includes/pnAPI.php on line 694

Deprecated: preg_replace(): The /e modifier is deprecated, use preg_replace_callback instead in /www/htdocs/w006eb13/html/demos/html/includes/pnAPI.php on line 694

Deprecated: preg_replace(): The /e modifier is deprecated, use preg_replace_callback instead in /www/htdocs/w006eb13/html/demos/html/includes/pnAPI.php on line 589

Deprecated: preg_replace(): The /e modifier is deprecated, use preg_replace_callback instead in /www/htdocs/w006eb13/html/demos/html/includes/pnAPI.php on line 694

Deprecated: preg_replace(): The /e modifier is deprecated, use preg_replace_callback instead in /www/htdocs/w006eb13/html/demos/html/includes/pnAPI.php on line 694

Deprecated: Function ereg_replace() is deprecated in /www/htdocs/w006eb13/html/demos/html/modules/Xanthia/pnclasses/Xanthia.php on line 562


OWLgS Demos & Aktionen



Deprecated: Function ereg_replace() is deprecated in /www/htdocs/w006eb13/html/demos/html/modules/Xanthia/pnclasses/Xanthia.php on line 562


Reiches Land - Arme Kinder



Deprecated: preg_replace(): The /e modifier is deprecated, use preg_replace_callback instead in /www/htdocs/w006eb13/html/demos/html/includes/pnAPI.php on line 589

Deprecated: Function ereg_replace() is deprecated in /www/htdocs/w006eb13/html/demos/html/modules/Xanthia/pnclasses/Xanthia.php on line 562


Indymedia Deutschland



Deprecated: Function ereg_replace() is deprecated in /www/htdocs/w006eb13/html/demos/html/modules/Xanthia/pnclasses/Xanthia.php on line 562


Newsletter - bundesweit



Deprecated: preg_replace(): The /e modifier is deprecated, use preg_replace_callback instead in /www/htdocs/w006eb13/html/demos/html/includes/pnAPI.php on line 589

Deprecated: preg_replace(): The /e modifier is deprecated, use preg_replace_callback instead in /www/htdocs/w006eb13/html/demos/html/includes/pnAPI.php on line 589

Deprecated: preg_replace(): The /e modifier is deprecated, use preg_replace_callback instead in /www/htdocs/w006eb13/html/demos/html/includes/pnAPI.php on line 589

Deprecated: preg_replace(): The /e modifier is deprecated, use preg_replace_callback instead in /www/htdocs/w006eb13/html/demos/html/includes/pnAPI.php on line 589

Deprecated: preg_replace(): The /e modifier is deprecated, use preg_replace_callback instead in /www/htdocs/w006eb13/html/demos/html/includes/pnAPI.php on line 589

Deprecated: preg_replace(): The /e modifier is deprecated, use preg_replace_callback instead in /www/htdocs/w006eb13/html/demos/html/includes/pnAPI.php on line 589

Deprecated: preg_replace(): The /e modifier is deprecated, use preg_replace_callback instead in /www/htdocs/w006eb13/html/demos/html/includes/pnAPI.php on line 589

Deprecated: preg_replace(): The /e modifier is deprecated, use preg_replace_callback instead in /www/htdocs/w006eb13/html/demos/html/includes/pnAPI.php on line 589

Deprecated: preg_replace(): The /e modifier is deprecated, use preg_replace_callback instead in /www/htdocs/w006eb13/html/demos/html/includes/pnAPI.php on line 589

Deprecated: preg_replace(): The /e modifier is deprecated, use preg_replace_callback instead in /www/htdocs/w006eb13/html/demos/html/includes/pnAPI.php on line 589

Deprecated: preg_replace(): The /e modifier is deprecated, use preg_replace_callback instead in /www/htdocs/w006eb13/html/demos/html/includes/pnAPI.php on line 589

Deprecated: preg_replace(): The /e modifier is deprecated, use preg_replace_callback instead in /www/htdocs/w006eb13/html/demos/html/includes/pnAPI.php on line 589

Deprecated: preg_replace(): The /e modifier is deprecated, use preg_replace_callback instead in /www/htdocs/w006eb13/html/demos/html/includes/pnAPI.php on line 589

Deprecated: preg_replace(): The /e modifier is deprecated, use preg_replace_callback instead in /www/htdocs/w006eb13/html/demos/html/includes/pnAPI.php on line 589

Deprecated: preg_replace(): The /e modifier is deprecated, use preg_replace_callback instead in /www/htdocs/w006eb13/html/demos/html/includes/pnAPI.php on line 589

Deprecated: preg_replace(): The /e modifier is deprecated, use preg_replace_callback instead in /www/htdocs/w006eb13/html/demos/html/includes/pnAPI.php on line 589

Deprecated: preg_replace(): The /e modifier is deprecated, use preg_replace_callback instead in /www/htdocs/w006eb13/html/demos/html/includes/pnAPI.php on line 589

Deprecated: preg_replace(): The /e modifier is deprecated, use preg_replace_callback instead in /www/htdocs/w006eb13/html/demos/html/includes/pnAPI.php on line 589

Deprecated: preg_replace(): The /e modifier is deprecated, use preg_replace_callback instead in /www/htdocs/w006eb13/html/demos/html/includes/pnAPI.php on line 589

Deprecated: preg_replace(): The /e modifier is deprecated, use preg_replace_callback instead in /www/htdocs/w006eb13/html/demos/html/includes/pnAPI.php on line 589

Deprecated: preg_replace(): The /e modifier is deprecated, use preg_replace_callback instead in /www/htdocs/w006eb13/html/demos/html/includes/pnAPI.php on line 589

Deprecated: preg_replace(): The /e modifier is deprecated, use preg_replace_callback instead in /www/htdocs/w006eb13/html/demos/html/includes/pnAPI.php on line 589

Deprecated: preg_replace(): The /e modifier is deprecated, use preg_replace_callback instead in /www/htdocs/w006eb13/html/demos/html/includes/pnAPI.php on line 589

Deprecated: preg_replace(): The /e modifier is deprecated, use preg_replace_callback instead in /www/htdocs/w006eb13/html/demos/html/includes/pnAPI.php on line 589

Deprecated: preg_replace(): The /e modifier is deprecated, use preg_replace_callback instead in /www/htdocs/w006eb13/html/demos/html/includes/pnAPI.php on line 589

Deprecated: preg_replace(): The /e modifier is deprecated, use preg_replace_callback instead in /www/htdocs/w006eb13/html/demos/html/includes/pnAPI.php on line 589

Deprecated: preg_replace(): The /e modifier is deprecated, use preg_replace_callback instead in /www/htdocs/w006eb13/html/demos/html/includes/pnAPI.php on line 589

Deprecated: preg_replace(): The /e modifier is deprecated, use preg_replace_callback instead in /www/htdocs/w006eb13/html/demos/html/includes/pnAPI.php on line 589

Deprecated: preg_replace(): The /e modifier is deprecated, use preg_replace_callback instead in /www/htdocs/w006eb13/html/demos/html/includes/pnAPI.php on line 589

Deprecated: preg_replace(): The /e modifier is deprecated, use preg_replace_callback instead in /www/htdocs/w006eb13/html/demos/html/includes/pnAPI.php on line 589

Deprecated: preg_replace(): The /e modifier is deprecated, use preg_replace_callback instead in /www/htdocs/w006eb13/html/demos/html/includes/pnAPI.php on line 589

Deprecated: preg_replace(): The /e modifier is deprecated, use preg_replace_callback instead in /www/htdocs/w006eb13/html/demos/html/includes/pnAPI.php on line 589

Deprecated: preg_replace(): The /e modifier is deprecated, use preg_replace_callback instead in /www/htdocs/w006eb13/html/demos/html/includes/pnAPI.php on line 589

Deprecated: preg_replace(): The /e modifier is deprecated, use preg_replace_callback instead in /www/htdocs/w006eb13/html/demos/html/includes/pnAPI.php on line 589

Deprecated: preg_replace(): The /e modifier is deprecated, use preg_replace_callback instead in /www/htdocs/w006eb13/html/demos/html/includes/pnAPI.php on line 589

Deprecated: Function ereg_replace() is deprecated in /www/htdocs/w006eb13/html/demos/html/modules/Xanthia/pnclasses/Xanthia.php on line 562


Online



OWLgS - Demos & Aktionen -
Deprecated: Function ereg_replace() is deprecated in /www/htdocs/w006eb13/html/demos/html/includes/pnLang.php on line 979

Deprecated: Function ereg_replace() is deprecated in /www/htdocs/w006eb13/html/demos/html/includes/pnLang.php on line 980

Deprecated: Function ereg_replace() is deprecated in /www/htdocs/w006eb13/html/demos/html/includes/pnLang.php on line 981

Deprecated: Function ereg_replace() is deprecated in /www/htdocs/w006eb13/html/demos/html/includes/pnLang.php on line 982

Deprecated: Function ereg_replace() is deprecated in /www/htdocs/w006eb13/html/demos/html/includes/pnLang.php on line 999
22.11.2019, 17:21 Uhr
Deprecated
: Function ereg_replace() is deprecated in
/www/htdocs/w006eb13/html/demos/html/includes/pnLang.php
on line
979
Deprecated
: Function ereg_replace() is deprecated in
/www/htdocs/w006eb13/html/demos/html/includes/pnLang.php
on line
980
Deprecated
: Function ereg_replace() is deprecated in
/www/htdocs/w006eb13/html/demos/html/includes/pnLang.php
on line
981
Deprecated
: Function ereg_replace() is deprecated in
/www/htdocs/w006eb13/html/demos/html/includes/pnLang.php
on line
982
Deprecated
: Function ereg_replace() is deprecated in
/www/htdocs/w006eb13/html/demos/html/includes/pnLang.php
on line
999


Your 'Vote NO' message to the Irish (Dein Vote NO-Gruß an die Iren)
The logo 'Vote NO 2 Lisbon' (Der Schriftzug ...)
Letters for printing (die Buchstaben zum Ausdrucken)
How to publish the photo (wie das Bild veröffentlichen)
Very nice locations (reizvolle Orte für das Bild)
(ENG) On Friday 2nd October 2009 Ireland votes about Lisbon Treaty in a Referendum the second time. Because of the economy crisis it will be harder for the Irish to say NO.
A friendly message of solidarity from people of the EU and other countries could be deciding now.
Sent a photo of you, holding the logo 'Vote NO 2 Lisbon', and please don't forget the word 'Please' - notes and the print files for this action you find here.
..............................
(GER) Am Freitag, 2. Oktober 2009 stimmt Irland in einer Volkabstimmung (Referendum) erneut über den EU-Vertrag von Lissabon ab. Durch die Krise ist es für die Irinnen & Iren schwieriger, NEIN zu sagen. Ein deutliches Zeichen der von Menschen aus allen EU-Ländern kann jetzt entscheidend sein.
Schickt ihnen ein Foto mit dem Schriftzug 'Vote NO 2 Lisbon' - hier Hinweise und Druckdateien für den Schriftzug.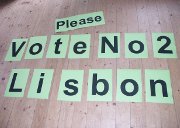 Just the letters here (hier die Buchstaben)

The logo 'Vote NO 2 Lisbon' (Der Schriftzug ...)



(ENG) Below you'll find all letters needed for the logo 'Please Vote NO 2 Lisbon' as graphic files (PNG), for printing out on A4 (portrait format) paper.
Please, click on every letter, one after the other, and print it out.
..............................

(GER) Hier findest du alle Buchstaben für den Schriftzug 'Vote NO 2 Lisbon' jeweils als Grafikdatei (PNG) zum Ausdrucken auf DIN A4 (Hochformat) Blättern .
Nacheinander auf die einzelnen Buchstaben klicken und diesen dann ausdrucken.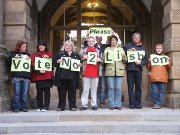 An example (ein Beispiel)

Letters for printing (die Buchstaben zum Ausdrucken)



V . o . t . e .... N . O ....

2 .... L . i . s . b . o . n

Ple ase



(ENG) NOTES:
You can of course take coloured A4 paper, if you've got. For the logo 'Please' there are two files for printing out. It will be quite useful to glue the two pages together before you do the photography.
..............................

(GER) HINWEISE:
Man kann natürlich auch - wenn vorhanden - farbiges DIN A4 Papier dafür nehmen. Der Schriftzug 'Please' ist auf zwei Seiten (Querformat) vorbereitet. Vor dem Foto am besten mit transparentem Klebeband passend zusammenfügen.





How to publish the photo (wie das Bild veröffentlichen)


(ENG) Well, I did a Vote NO photo message, and this should be published to show to the Irish people. There are two ways to do that ....

(A) If you've got an account on Twitter, you can publish it there. But please, don't forget to give message to: no_means_no, Europe2People and VoteNo2Lisbon.

(B) You can send the photo via email to vntl@demos.owlgegensozialabbau.de.


NOTE:
You can as well go another way to publish, but please look that you give a message to the Twitters or EMail above.
..............................

(GER) Okay, ihr habt ein Foto gemacht, das jetzt veröffentlicht werden soll. Zwei Möglichkeiten gibt es dafür ....

(A)Wenn du einen Twitter-Account hast, kannst du das Bild darüber veröffentlichen. Aber bitte nicht vergessen einen Hinweis an no_means_no, Europe2People and VoteNo2Lisbon zu senden.

(B) Du kannst eure VNTL-Gruß an die Iren an folgenden EMail schicken: vntl@demos.owlgegensozialabbau.de.


NOTE:
Ihr könnt das Bild auch auf eine andere Art und Weise veröffentlichen - aber bitte uns Bescheid sagen, damit das zusätzlich per Twitter bekannt machen können.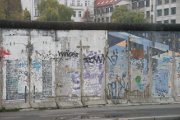 Possible location: Berlin Wall
(eindrucksvoll: vor der Berliner Mauer)

Very nice locations (reizvolle Orte für das Bild)


(ENG)
Of course, you can take the photo on a place of your decision. This could be just where you and your friends live, somewhere in the centre of your town / city like in front of the Town Hall or a Church, near a brigde or somewhere else.
EVERY photo message to the Irish is worth to be done and them, people from other countries are with them !

Very nice locations for your photo would be well-known places, e.g. in front of a building, which is common known by people from other countries. This could be for example the London Tower Bridge, the Eiffel Tower in the French capital Paris or the Brandenburger Tor in Berlin.
..............................

(GER)
Natürlich könnt ihr ein Bild an einem Ort eurer eigenen Wahl machen. Das könnte unmittelbar dort sein, wo du und deine Freunde wohnen, im Stadtzentrum vor dem Rathaus oder einer Kirche, an einer Brücke oder sonst wo.
JEDER Bildgruß an die Iren ist es wert, gemacht zu werden!

Besonders wirkungsvoll aber sind allgemein bekannte Plätze, wie beispielsweise vor einem Gebäude, das europaweit bekannt ist. Das könnte z.B. an der Tower Bridge in London sein, am Eiffelturm oder am Brandenburger Tor in Berlin.




Aktualisiert Donnerstag, 24. September 2009 Geschrieben von owlgs/dm 1439 Mal gelesen
Deprecated
: Function eregi() is deprecated in
/www/htdocs/w006eb13/html/demos/html/footer.php
on line
30